Dear Friends,
We are heartbroken by the news of the devastating earthquake in Nepal. We are immediately starting a fund for relief.
Donate
now to alleviate the suffering of our Nepali brothers and sisters and to work for a fast recovery of Nepal.
The Shauna Rose Kaufman Foundation has been working in Nepal for the last five years by providing education and improving the quality of life for Nepali people. Already ranking among the poorest countries in the world, and still recovering from the civil war which ended in 2007, Nepal has been shattered by the 7.9 magnitude quake. The impact of this natural disaster is sure to be felt for years to come as people suffer from injuries, disabilities, loss of loved ones, and destruction of their homes, possessions, and livelihoods. Strongly dependent on tourism, the damage to buildings and ancient temples will also have an untold effect on the developing nation's economy.
Our foundation's board member and friend, Ram Krishna Sahi, describes the fear and difficulties being faced by thousands of people who have fled their homes to sleep in open places, without protection from rain. Thousands are dead or buried beneath collapsed buildings. More than 90 tremors have shaken the earth and terrified citizens after the initial quake.
SRKF President and Vice President Amy and Holly are currently in Northern India and poised to coordinate relief efforts, with your help. Many supplies can be purchased in India and brought to Nepal. With the guidance of our Nepali partner Ram Krishna, your donation will have a direct and important impact. 100% of your donation will benefit quake victims in Nepal. Our experience has shown us the fortitude and perseverance of the Nepali people. May we all join together to help them in this dire time.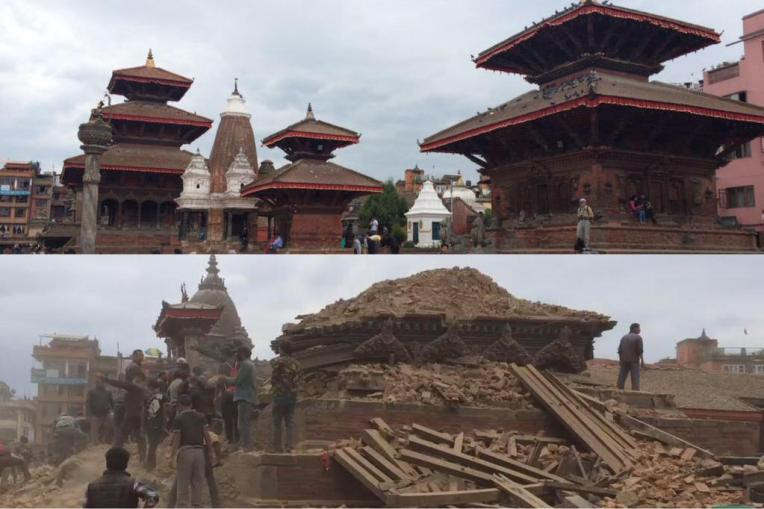 before and after the earthquake in historic Durbar Square, Kathmandu





December 2014



Naya Prakash...

New Light
Ghurni Devi Chaudary was suffering from severe cataracts. She traveled many hours from her home in the plains of Nepal to go to an eye hospital in Kathmandu to undergo surgery. But when she realized she could not
afford the cost of the surgery, she simply left the hospital, unable to cure her blindness.

Our friend and foundation volunteer Ram Krishna Sahi told us about Ghurni Devi and made her the first recipient the Shauna Rose Kaufman Foundation's "New Light" program to treat preventable blindness. Ghurni Devi underwent surgery right away and is currently making a fast recovery.

There are up to 30,000 new cases of cataracts in Nepal every year. Thousands of poor laborers or farmers like Ghurni Devi cannot afford to treat their degenerating eyesight. New Light provides a chance for these people to heal their eyes and see the world anew.

Please donate to the project and share new light with someone in need. A $100 donation will pay for one life-changing surgery! If you or anyone you know has ever undergone cataract surgery, you know the freedom and wonder that comes with restoring failing vision. Give the gift of new light, and you also give back all the sunsets, flowers, and smiling faces that would be lost in the clouds of preventable blindness.
October 2014

Sister Schools
Joining students in Nepal and America through art

Read the Coastal Point article about our new project here!
The Shauna Rose Kaufman Foundation has just begun its first sister school relationship between Samata Shiksha Niketan in Bhaktapur, Nepal and Lord Baltimore Elementary in Ocean View, Delaware (US).
A sister school relationship means linking two schools in a unique partnership that involves communication between students. In the case of this sister school, the students will communicate through... art! Since students in Nepal speak limited English, it is impractical to communicate with letters. And if pictures really do say a thousand words, exchanging artwork is a wonderful way to bridge this gap, and share about one another's country and school.
At Lord Baltimore Elementary, Amy and Holly gave presentations to fourth grade students about Nepal, Nepali culture, and their new sister school, called Samata School for short. None of the students knew where Nepal was! But after the presentation, they learned not only its location, but hundreds of facts about Nepal's language, culture, and lifestyle. The presentation shared photos of Samata School's grounds, as well as its students and teachers. The kids at LB were surprised but sympathetic to learn of the lack of resources at their sister school. But they were also very impressed by the artwork of the Samata School's students, which was decidedly neater than that of most LB students.
As a sister school to Samata school, LB art students will draw pictures of their school, their neighborhood, and sports or activities unique to their area. In addition, they will draw pictures of the ocean, which is fascinating to Nepali students, who live in a landlocked country.
This project is really a beautiful way for students on opposite ends of the Earth to share about themselves and their common humanity, through the medium of artwork.
Some more art from Bhaktapur
Truly, the students who receive art class via the foundation never seem to get bored. In the midst of difficult classes like English language, mathematics, and the complex grammar of their own language, Nepali, the kids always welcome the time they have to nurture their creative side and improve their skills.
Nepal has a very unique and beautiful culture. We, in America, are likely to think of Nepalis under one umbrella: that of their nation. But Nepalis are also divided into a number of ethnic groups such as Chhetri, Newar, Tamang, Thami, Limbu, and many others. Bhaktapur, where we hired the first art teacher, is a city of traditional Newar artisans. For may hundreds of years Newars have been renowned for their skills in woodcarving and pottery. Newar people make up roughly 10% of Nepalis, but they are concentrated in the Kathmandu Valley, or Bhaktapur area. In that city, it is not uncommon to find older people who do not even speak the national language, Nepali, but only their native tongue Newari.
So as it happens, a large number of students at the Bhaktapur school are Newari. There is usually no animosity between ethnic groups (only intermarriage is taboo), so the students of other backgrounds were also motivated in making the latest drawing for a recent art competition held at the school.
In this drawing, you can see some of the characteristics of Newar people:
On the girl:
Red and black cloth tied in folds
shirt called 'chol
i'
'mala' or gold necklace
golden bangles
tika (red mark on forehead that represents the third eye)
golden chumka (earring
s)
and ornaments in the hair.
The boy wears Newar traditional dress as well: a vest, pants, and 'topi' hat. You'll notice he also has a flower in his hair. Traditionally, for all Hindus, flowers are placed on the head after worship. Newari men, more often than girls, can be seen with poinsettias peaking out under their caps.
August 12th, 2012
Please attend our upcoming film scene screenings!
We will be presenting selected scenes as a "teaser" of our upcoming film with light snacks and time for discussion.
We are looking for feedback from the community as film production moves forward.
News
August 10th, 2012
Ceramics in Ecuador

President and board member, mother and daughter, Amy and Holly Kaufman have once again been abroad volunteering their time to develop projects for the foundation. Living in an indigenous Quichua community in the Amazon rainforest, they discovered the beauty of a dying art: traditional Quichua ceramics. The ceramics, which are being lost as the younger generations of this culture become more modern, are made entirely of natural materials. Potters collect clay from local rivers, use paint from river rocks, and glaze their work with native tree sap. The ceramics are even painted with brushes made from the artist's hair!



In the bilingual Quichua/Spanish school Kuyu Urcu, students are proud of their traditional culture and arts. But without teachers to pass on these arts, the students have little knowledge of how to make the traditional arts that have existed for centuries. When president Amy Kaufman realized this lack, she immediately thought of our mission, and of Shauna's passion for art and for ceramics. She set out looking for a ceramics teacher.


After some searching, and even a teacher who agreed to teach the class but had schedule complications at last minute, Amy found Amada, a skilled ceramics artist and storyteller, and brought her to Kuyu Urcu to teach a three day ceramics class. Students arrived after school with backpacks full of the materials needed to work, including corn husks, stones, clay, and a native fruit called pilche.


While sharing traditional Quichua legends with the children, Amada instructed the students on how to make a variety of bowls and vessels. The students fully embraced this opportunity to learn from Amada, but the true success of this project lies in the fact that now that the students have the know-how, they have everything they need to continue practicing this beautiful art form. More information coming soon!


August 5th, 2012
Shana Kala Grows

Our program Shana Kala has been providing art education to more than a thousand students in Nepal over the last year. The students' success and enthusiasm for this enrichment to their school life and curriculum has inspired us to continue the program in another school. Nepali advisor and board member, Ram Krishna, located new teacher Asmita Shrestha to teach at the Patan Niketan School, another one of the Nepalese bamboo schools for impoverished students. Ram writes:

"I have appointed 20 years old art teacher at Patan Niketan school who is young and energetic too. I have given a priority to the female this time, her name is Asmita Shrestha who is locally from Patan. She is also studying in 12 class. She has taught art in private institution. Before I employed her, I observed her class and was impressed with her teaching. She started teaching with very basic like how to make circle, drawing straight line, curved etc. She loves the children and likes teaching. It is good for us because she is a local girl, not very far from the school."


Asmita with the class at the Patan Niketan School



May 2012
Open Mike Brings in Donations

For the last two months, The Artful Bean cafe and art gallery in Bethany Beach, Delaware has been hosting open mike night on Fridays. In addition to hosting the show, Ian Kaufman has also been speaking about The Shauna Rose Kaufman Foundation and the work it has done and continues to do. The Foundation has received an abundance of anonymous donations through open mike in the form of a simple tip jar. Through the generosity of the audience and musicians that attend The Artful Bean's open mike has raised enough money to hire another art teacher in Nepal, as part of the expansion of our Shana Kala program.




Thank you donors! Your contributions make it possible for us to fund programs that make the world a better place here in Delaware and around the world.


May 29th, 2012
Shauna Rose Kaufman Award
Last year, the Academic Challenge Program gave out the first annual Shauna Rose Kaufman Award for a student in the program that exhibits commitment to helping others, community dedication, volunteering, and exploring ways to make a change. This year, the second annual award went to Albina Hernandez-Mejia, an eighth grader who was selected for the award based on an essay contest.
Albina and her parents at the AC Awards Ceremony

Albina, who is the daughter of Guatemalan immigrants, wrote about the di
sadvantages her parents endured and how it led her to understand the importance of helping those less fortunate than us. Her parents received very little education in their home country, barely learning to read and write. And now their daughter, Albina, is in a program among the smartest kids in the county, and is being recognized as one of the most compassionate.
March 4th, 2012
Healing Historic Harms
The Foundation previously donated its time and resources to supporting a community workshop in Sussex County called
Healing Historic Harms.
This, and other workshops led by Latino activist Charito Calvachi-Mateyko, bring together a small of individuals, usually from vastly different backgrounds.

Over a 1-3 day period, these individuals bond and attempt to overcome their cultural prejudices by connecting with one another and sharing stories. The Foundation has once again contributed to this intense and powerful workshop in Delaware by providing food and funds necessary to facilitate the program.

The small groups involved in the workshop learn about restorative justice, a ideology that views justice as something more than just crime and punishment, and inevitably leave with a greater understanding of others and inspiration to do good. By contributing to this healing program, the Foundation hopes to spread good will an understanding throughout the world.


February 15th, 2012
Niños de Ecuador
On February 6th, Amy and Holly returned from a three week trip to Ecuador where they brought art supplies, educational games, and their teaching expertise to Segundo Miguel Salazar Primary School on behalf of the Foundation.
Third Graders at Segundo Miguel Salazar show off their "god's eyes", an art project from Mexico.
The Foundation donated art supplies including yarn, scissors, paper, and other craft materials as well as Math 24 cards and bilingual children's books to this small school in Machachi, Ecuador. Read more under the
Education
tab.
December 22nd, 2011
Photos from Nepal
Since August, the foundation has been funding an art teacher at Samata Shiksaya Niketan in Nepal. In addition to overseeing the art teacher and providing much-necessary cultural perspective on the Shana Kala program, Ram Krishna has recently sent us some beautiful photos of the children and their artwork, including their recycled paper house project:
To learn about how Shana Kala was started, and to see photos, visit the Shana Kala page under the
Art
tab.
December 14th, 2011
Press
In the past few months, two more articles have been written about the Foundation and about Shauna's family.
Christina Weaver's article
, which was published following Shauna's celebration of life on July 9th, 2011, focuses on the creation of Shauna's Garden and how we can remember those that we have lost.
Another article
published in the News Journal in October, 2011, talks about the Foundation's work in Nepal and how it relates to the Jewish holy day Yom Kippur.
August 17th, 2011
TREES!
On August 11th, students at Samata Shiksaya Niketan School worked together to plant almost 300 trees on the grounds of their school. The foundation sponsored the planting of these trees. Learn more about our work in Nepal under the
Education
tab.
July 15th, 2011
Math 24
The foundation has begun several projects to benefit children in Nepal. Among these projects is the contribution of Math 24 game cards to impoverished schools. The effects of teaching this game are immense in terms of improving math skills, but the joy and fun brought by the game is even more evident. Students who learned the game were so eager that they would practice during their lunch hour and ask to take the cards home.
The game is played with a card that has four numbers written on it. Players must do mental math to add, subtract, multiply, or divide those numbers until they get the answer 24, using each number only once. Students in Nepal were able to learn quickly and process the answer in their own language, Nepali, because only math skills are needed to play. Over time, they learned to play the game very well in English, too.
To read more about Math 24 in Nepal, visit our
Education
page.
June 20th, 2011
Art in Nepal
Shauna's mother and sister (board members Amy and Holly Kaufman) recently returned from volunteering in rural Nepal. While they were there, they visited an impoverished school named Samata Shiksya Niketan (Sa-MAH-tuh Sik-SAH Nik-uh-TAHn) which serves over 1200 students.
This school was founded on the principle that all children in Nepal should have the right to a good education, not just those who can afford private school. This is an especially important issue in Nepal, where there is a huge disparity between public, or 'government' schools and private schools. Though Samata Shiksya Niketan strives to provide proper education to its students, it is still very poor and low on resources.
The Shauna Rose Kaufman Foundation has now teamed up with Nepali activist Ram Krishna Sahi to provide an art teacher for the school. The teacher will instruct 14 classes a week, serving over 500 students from grades 3-8. To read more,
click here
.
March 16, 2011
Circles Spin Out
In honor of Shauna's birthday, the Shauna Rose Kaufman Foundation would like to share this piece of Shauna's poetry. Shauna cared deeply about the impact that she made on this world, and she wrote this poem to highlight the fact that the actions of a single person can carry on endlessly in ways seen and unseen. Following the poem is the commentary Shauna wrote about what inspired her to write Circles Spin Out and what it meant to her.
To read it,
click here.